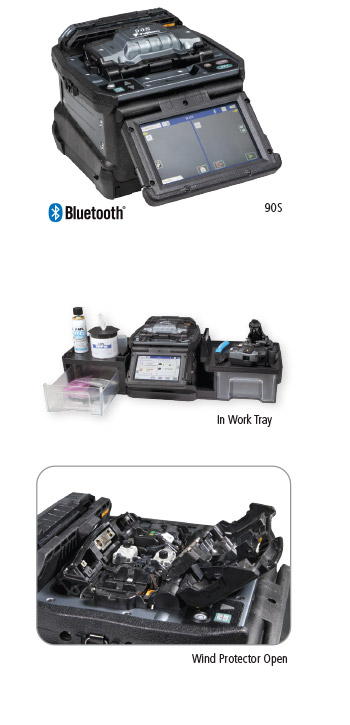 Fujikura 90S Fusion Splicer
The 90S is the latest core alignment splicer from Fujikura. It's designed to give you high quality splices and to stay in the field. The 90S kit solves common problems seen in the field today, from splicing poor quality legacy fiber to automated equipment maintenance and upkeep. The 90S can be utilized in any field splicing application seen today: bend-insensitive fibers in drop cables, long-haul terrestrial and submarine LEAF fibers, loose buffer fiber, splice on connectors, and the list goes on. The speed and accuracy of the 90S even make it suitable for certain production and specialty environments, where high output, tight packaging, and low loss requirements are needed. Regardless of your scenario, the 90S is designed to keep you going with an extended battery life of 300 splice and heat cycles, and by alleviating the need for traditional operation tasks such as; frequent arc calibrations, cleaver blade rotations, cleaver usage tracking, and manual splicing operations with its multiple automated and ease-of-use features. A redesigned work tray, cooling tray, and optional cable clamp make the 90S kit more versatile than any of its predecessors in adapting to varying work conditions and environments. In addition, if you are splicing loose buffer fiber, there is no longer a need to purchase and swap out with an additional sheath clamp. Now, a universal sheath clamp that handles both loose and tight buffer fiber is standard. Put our 90S to the test by contacting us to see its capabilities first-hand, 1-800-866-5353.
Features
Cleaver tracking and upkeep with wireless communication
Automated wind protector, sheath clamps and splice operation
Loose and tight buffer with same sheath clamp
Lithium-ion battery with 300 splices/shrinks per charge
Graphical User Interface with 5.0" Touchscreen
PC software and 90S manual downloaded from splicer
Multi-function transit case with integrated workstation
Applications
Distribution fiber repair
Long-haul network installation
Field termination with splice-on connectors
Access network installation
Fanout kits, pigtails and splice cassettes
OSP cable installation and repair
Optical modules – splitters, couplers, MUXs, EDFAs and attenuators
---
Fujikura 90R Fusion Splicer
The Fujikura 90R is the mass fusion splicer workhorse of the splicing world. As data demand continues to rise, the solution to handle the increased traffic is to increase fiber counts. As a result, fiber counts being utilized in enterprise data centers, campus, and metro networks have grown enough to make single fiber splicing too costly and timely. High density cabling made possible by SpiderWeb Ribbon® (SWR) and others like it are spurring ribbon splicing activity in places that have traditionally used loose fiber. The 90R is the answer to these changes in splicing demand. With automated splice start, tube heater, wind protector, cleave tracking, and blade rotations for up to 2 cleavers at a time, this splicer frees up operator time for other fiber preparation steps. New to the 90R, you can keep your splicer in the field longer with field replaceable V-grooves. When V-grooves can no longer be cleaned after extended use, or are accidentally damaged, you can resume splicing in minutes by installing the spare set included with your 90R kit. Put our 90R to the test by contacting us to see its capabilities first-hand, 1-800-866-5353.
Features
Cleaver tracking and upkeep with wireless communication
Automated wind protector, tube heater and splice operation
User replaceable v-grooves
200 µm and 250 µm SWR universal ribbon prep accessories
Graphical User Interface with 5.0" Touchscreen
PC software and 90R manual downloaded from splicer
Multi-function transit case with integrated workstation
Applications
Data Center cable installation
High fiber count metro and campus networks
Long-haul network installs and repair
Trunk cable repair with Splice-on MPOs
Ribbon splicing high density cables with 200 µm loose fiber
---
Part #

151X950

Brand

AFL

Model

S017519

Usually ships same day

 

Oversized Ship Rates (NOT eligible for Free Shipping)

Part #

151X960

Brand

AFL

Model

S017521

Usually ships same day

 

Oversized Ship Rates (NOT eligible for Free Shipping)

Part #

151X955

Brand

AFL

Model

S017520

Ships in 5-10 business days

 

Oversized Ship Rates (NOT eligible for Free Shipping)

Part #

151X935

Brand

AFL

Model

S017509

Ships in 3-5 business days

 

Oversized Ship Rates (NOT eligible for Free Shipping)

Part #

151X945

Brand

AFL

Model

S017511

Usually ships same day

 

Oversized Ship Rates (NOT eligible for Free Shipping)

Part #

151X965

Brand

AFL

Model

S017540

Ships in 5-10 business days

 

Oversized Ship Rates (NOT eligible for Free Shipping)