AFL
At AFL we manufacture fiber optic products and equipment that communications providers need to provide quality solutions to their customers. Our extensive experience and product lines cross all markets from Telco, Broadband and Wireless, to Electric Utility, OEM, Enterprise, Mining, Oil and Gas. AFL delivers innovative and proven fiber optic products, engineering, and integrated service solutions. Whether you need to build a network, upgrade a broadband system, expand a central office or connect a campus through fiber optics, AFL has the products you need to complete the job.
Splicing

Equipment
---
AFL Fujikura fusion splicers feature reliable fiber splicing equipment for all common applications and environments such as single fiber, ribbon and FTTx splicing applications.
Shop Now >
Test&

Inspection
---
AFL's test and inspection products consistently meet and exceed customer needs. AFL delivers exceptional fiber optic test equipment and outstanding service. The AFL ISO 9001:2008 certification and quality practices ensure you receive excellent products and documentation.
Shop Now >
Fiber

Cleavers
---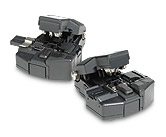 AFL Fujikura fiber cleavers from AFL offer excellent portability and are ideal for FTTx applications. Fiber cleavers are available for either single fiber or ribbon splicing of up to 12 fiber ribbons.
Shop Now >
Fiber

Cleaning
---
Maximize network performance with AFL fiber optic cleaning supplies. Properly cleaning connectors extends the life of the connector, enhances the performance of your network and minimizes replacement costs. AFL offers a wide variety of cost effective and easy to use cleaning products and kits to meet all your connector cleaning needs.
Shop Now >
Fiber Splice

Kits
---
AFL fiber splicing kits feature top quality splicing tools and accessories. Splicing kits include products such as fiber cleavers, fiber optic strippers, fiber cleaning products – and more contained in convenient, portable kits.
Shop Now >
Splice

Accessories
---
AFL fiber splicing accessories include equipment such as AC and DC adapters, battery packs & chargers, fiber holders, as well as carrying cases to protect fusion splicers.
Shop Now >