Build Your Own Kit
At Specialized Products Company, we understand how time and costs are significant aspects of outfitting your technicians with new hire tool kits. Let us handle your management, stocking and kitting needs! We offer a custom kit program that gives you the freedom to choose your own set of tools, test equipment and consumables unique to the type of installation, maintenance, and repair jobs you handle day to day - and to order this tool set with just one part number reducing purchase time. Our comprehensive selection of top brands in the electrical, telecom and datacom fields allow you to create a kit tailored specifically for your job needs without any up-charges or hassles. You can rest assured that your kit will be delivered ready-to-use with everything you need and nothing you don't. Our team of experts is here to help you keep it simple - ONE part number, ONE shipment and ONE invoice! CALL US AT 800-866-5353 to begin building your own tool kit.


Choose Your Tools & Test Equipment
Browse the many categories at the top of the page to see our wide selection of tools and test equipment. Whether it's on our site or not, we will work with our vast selection of brands to acquire what you need.
Choose Your Case Style
Pick out the perfect hard case, soft case or backpack to meet your needs in the field. Then contact a member of our expert Sales Team and give them your case preference and full list of tools and test equipment.
One Part Number, One Invoice
Custom Kits will save you money with a time and costs saving solution. Every company encounters "hidden costs", including time, personal costs, etc. Instead of dealing with a complicated invoice, finding vendors for the parts, we provide you with one simple invoice with a single custom part number solution for your kit. And, there are never any up-charges for creating your own kit. Here is how we can save you time and money.
One purchase order, one part number. Only order once, saving $120 each time a purchase order is entered for the parts needed to create a kit X however many kits you need.
One vendor: Specialized, for the equipment you need rather than working with many vendors which takes time to research, buy and receive. More savings to you.
One order rather than many orders to receive and assemble. How many minutes does it take to receive and assemble the kit? How much money is the person paid? All savings to you.
We Assemble Your Kit
Whether pulling from our on-site inventory, or acquired direct from the manufacturer, we source your case and all of your selected tools. Your kit is then assembled by our expert team on location in our warehouse in Southlake, Texas.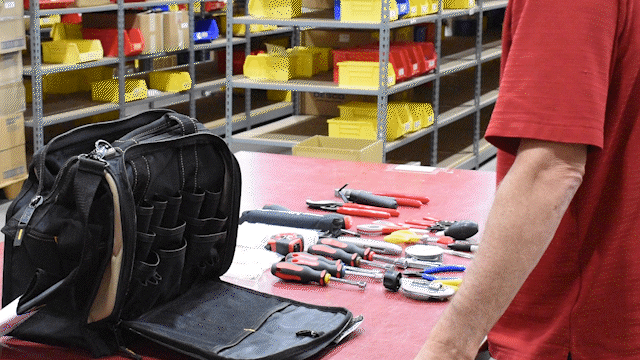 We Ship Your Custom Kit To You
When your custom kit build is complete, we ship it directly to you, ready for use in the field, straight out of the box. CALL US AT 800-866-5353 to begin building your custom tool kit today.