CONNECTORS
Fiber Optic connectors are integral when working with fiber optic networks. Fiber optic connectors terminate and mechanically align the cores of optical fibers to allow light to pass through to another set of fibers for continued communication. Although they are only part of the entire fiber optic cable, fiber optic connectors are essential for establishing a healthy network connection. All fiber optic connections, from stringing together a set of personal desktop computers to wiring the central office of a major telephone company, require durable, need high-performance connectors to run smoothly.

At Specialized Products, we strive to meet your connection requirements by offering a large assortment of different fiber optic connectors. We offer various types of connectors from a wide selection of vendors including: 3M™ Hot Melt, Corning OptiSnap®, Anaerobic, Epoxy and Corning UniCam®, connectors. Each type of fiber optic connector has a different shape and size that is intended for a different type of connection. Some of the connector styles distributed by Specialized Products include FC, SC, ST, LC, FC/APC, SC/APC, LC/APC and MTRJ.
---
3M Hot Melt Connectors ►

3M™ Hot Melt Connectors are high performing connectors that are popular among contractors because of their reliability and ease of use. They are pre-loaded with special re-heatable adhesive allowing them to be repositioned and feature a very long shelf life. These easy-to-install fiber optic connectors provide consistent performance in indoor and outdoor environments and can be installed in as little as two minutes. 3M Hot Melt Connectors are specifically designed for installation in single mode and multimode fiber data transport systems. Such systems include Local Area Networks (LAN), factory and industrial control systems, traffic control systems and enterprise networks. Fiber connectors are also used for termination of multi-fiber distribution and breakout cables as well as termination and restoration of patch cords. 3M Hot Melt Connectors exceed TIA-568 standards for performance over environmental extremes and may be used in outdoor and indoor applications. These fiber optic connectors are available in LC, ST, SC, FC single mode and multimode styles. Specialized Products also carries the 3M 6366 Hot Melt Termination Kit with curing oven to provide everything you need in order to install 3M Hot Melt fiber optic connectors.
---
Anaerobic Connectors ►

Anaerobic connectors offer high performance in a quick and easy field-termination solution for single mode and multimode connections. The anaerobic cure technology enables fiber optic networks to be installed cost effectively with minimal tools. The process begins when the adhesive is injected into the empty anaerobic connector, while the end face and bare fiber is dipped into the primer, which seals off oxygen to the base adhesive. Once the adhesive is cured, the fiber protruding from the connector is scribed and polished to completion. Anaerobic connectors are considered ideal for use in factory assembly applications or in field-mount restorations requiring a broad temperature range and stringent performance standards. Anaerobic connectors are fast, convenient, reliable and are used to install ST, SC, FC and LC connectors.
---
3M Crimplok Connectors ►

3M Crimplok™ Connectors combine the speed of non-adhesive connectors with reliability and optimal performance. These connectors use 3M Fibrlok™ technology to grip the fiber so the connectors can be installed almost anywhere without the need for electrical power. Our 3M Crimplok Termination Kit includes all the tools needed to terminate ST and SC single mode and multimode fiber optic connectors.
---
Epoxy Connectors ►

Connectors using Epoxy termination include all standard industry interfaces, and provide both consistent and reliable performance. When using epoxy connectors, the connector and fiber are permanently bonded providing high quality and reliability. Specialized Products offers the 721X351 Heat Cure Fiber Optic Epoxy for fast 15-minute curing at 176°F, as well as our 721X356 Blue Dye Epoxy which can be heat cured at 149°F for 1 hour or at room temperature for 24 hours. Epoxy connectors can be heated with our 24-port Heat Curing Oven for ST, SC, FC, D4 or SMA type connectors. Epoxy connector types available include FC/APC, FC, LC, LC/APC, MTRJ, SC, SC/APC and ST.
---
OptiSnap Connectors ►

OptiSnap® connectors are field-installable, no-epoxy, no-polish (NENP) fiber optic connectors with a factory-polished end-face for termination of fiber optic cables. These fiber optic connectors offer fast installation time and provide a good alternative to fusion splicing. Features such as factory polished ceramic ferrules allow these OptiSnap Connectors to provide superior optical performance as well as low insertion loss. These fiber optic connectors also include the Corning patented go/no-go feedback signal for verification installation. All the installer has to do is simply insert the fiber, activate the cam and wait for the pass/fail light to illuminate. The OptiSnap Connector is designed for single-mode FTTx applications, maintenance and restoration of building cable, and MDU applications where installation setup and teardown time is critical. This type of fiber optic connector is also ideal for central office terminations because it allows for fast/easy terminations. OptiSnap connectors are available in SC and LC connector types and UPC and APC styles.
---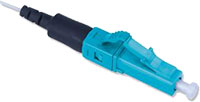 AFL FASTConnect Field-Installable Connectors ►

AFL FAST Connect® field-installable connectors provide precision mechanical alignment and are compatible with 250µm and 900µm (2mm and 3mm cordage) optical fibers. A pre-cleaved fiber stub and index-matching gel ensure low loss termination for SC, LC, FC and ST single-mode and multimode fibers. These fiber optic connectors are pre-polished and require no epoxy to reduce installation time in the field. Meet TIA/EIA 568A performance requirements, TIA/EIA 604 (focis) connector interface requirements and are color coded per industry standards.
---
UniCam Connectors ►

UniCam® Connectors are reliable and among some of the easiest to install in the industry. Taking approximately a minute or less to install the UniCam Connector does not require messy polishing, epoxy, ovens, power cords or polishing films. These fiber optic connectors are factory polished with a fiber stub embedded in the connector body. The opposite end is precisely cleaved and placed into the alignment mechanism of the mechanical splice. Both the field fiber and the fiber stub are protected from the external environment. TKT-UniCam Tool Kits are available to provide necessary equipment to strip, clean, cleave, cam and crimp UniCam connectors. To assure that the installation was performed correctly, a Continuity Test Set (CTS) verifies the connection. UniCam connectors are used in a variety of applications, such as telecommunications, cable television, access, local and wide area networks, wireless networks, intelligent transportation systems (ITS) and power utilities. Available in ST, SC or LC styles, these fiber optic connectors provide an ideal solution for terminating multimode or single mode cable.
---
AFL FUSEConnect Fusion Splice-on Connectors ►

AFL's FUSEConnect® fusion spliced, field installable connectors are uniquely designed and feature only four to five components. The factory pre-polished ferrule eliminates the need for polishing, adhesives, and crimping in the field, which minimizes the potential for operator error and expensive connector scrap. FUSEConnect utilizes a fusion splicer to terminate the connector in the field, addressing return loss concerns present in analog optical networks. This advanced process yields true APC performance for SC/APC and LC/APC configurations, and is compliant to GR-326-CORE. FUSEConnect is compatible with Fujikura fusion splicers and most other fiber holder-based fusion splicing platforms.