BURNDY - T&B TOOLS
Specialized Products strives to provide quality telecom cable tools by selecting the top name brands in the industry. BURNDY® is the leading company in the telecommunication tools industry that offers high-quality wire and cable connection products including, manual and hydraulic compression crimpers and cutters, crimper dies, H/C taps and compression lugs. These specialized telecom cable tools are designed to assist cable installation and contracting professionals with a number of connection needs. BURNDY offers separate systems of coordinating compression crimpers, dies and lugs designed to reduce the difficulty of the hardest installation jobs and make post inspections simple.
• BURNDY Crimpers
• BURNDY Dies
• BURNDY H/C Taps
• BURNDY Lugs
• Hydraulic Crimp Tools
---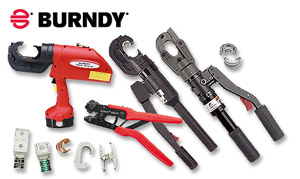 BURNDY Crimpers and BURNDY Crimp Tools, BURNDY Dies, Lugs, H/C Taps ►


BURNDY has provided reliable wiring accessories and telecom tools for over 85 years. They are known for their long lasting quality solutions for the utilities, telecommunications, electrical, solar and wind energy industries. BURNDY has engineered a system of coordinating dies, lugs and compression crimper tools to meet the needs of installation and contracting professionals. This wire and cable connection system is designed to ensure that all components work together. All compression connector dies emboss a die index number on the connection being crimped providing a permanent and easy solution to inspecting connections. Reliable connectivity is assured when using BURNDY Tools, Dies and Lugs. BURNDY tools offer affordable installation cost and yield high-quality connections.
---

BURNDY crimpers are designed to crimp lugs, splices and C-tap or H-tap connections with reliable and efficient precision. Specialized Products offers BURNDY hydraulic crimpers and battery-operated compression crimpers, as well as hand and mechanical crimpers for smaller jobs.
---
BURNDY Dies & BURNDY Die Set Kits ►
BURNDY dies are designed for reliable and controllable electrical connections. They are part of a color-coded connection system where cable size is represented by a corresponding color on lugs, taps and dies. BURNDY dies include W-dies, U-dies, H-tap crimping dies.
---
BURNDY C-Taps & BURNDY H‑Taps ►
Specialized Products Company features BURNDY H-taps and C-taps manufactured to provide maximum flexibility for the design and installation of a system. They are made of high quality electrolytic copper and are electro-tin plated for supreme corrosion resistance. Choose from the variety of H-taps and C-taps in stock for your installation needs.
---
BURNDY Lugs are a part of the BURNDY Engineered System, designed to provide dependable connections for the electrical and telecommunications, industrial and energy industries. These copper lugs note the die index number and are marked to show cable size with bands that correspond to color markings on the proper installation die. All BURNDY lugs provide a permanent connection, in central office power and grounding applications, with a high degree of reliability.
---
Specialized.net carries a variety of BURNDY hydraulic crimpers. BURNDY hydraulic crimpers are among the industry's strongest, most durable devices. Our hydraulic crimping accessories include hydraulic pumps, compression tools, hoses, die adapters and more.
---