FIBER OPTIC ACCESSORIES
Specialized Products supplies a wide array of fiber optic accessories to install, troubleshoot and assist in testing your fiber telecommunications network. These fiber optic products are developed specifically with telecom engineers in mind and are commonly used at computer work stations, patch panels and optical cross connect distribution centers. Browse our selection of fiber optic cable solutions from popular vendors including: Corning®, FiberXP™, AFL, and EXFO.
---
Fiber Attenuators ►

Fiber optic attenuators are tools used in fiber optics communications to test power level margins by temporarily adding a calibrated amount of signal loss for product testing and equipment maintenance. Specialized Products sells both variable (adjustable) attenuators and fixed attenuators which can reduce the power of fiber light at values up to 20dB. We carry fiber optic attenuators to complement a broad range of different connector ends and cables including those with duplex or simplex FC, SC, ST, or LC ends. These fiber attenuators can be used for either multimode or single mode cables.
---
Fiber Connector Adapters ►

Fiber optic couples or fiber adapters are devices that allow two different terminating ends of separate fiber optic patch cables to connect and pass data along to another cable with a minimal loss of light or data without contact from outside constituents. Specialized Products offers fiber optic couplers/adapters for almost any possible connection combination you may have, including bare fiber cables. Our coupler inventory includes, but is not limited to, duplex or simplex FC, SC, ST, LC, MTRJ-ST, MTP connectors and bare fiber connectors for multimode or single mode cables.
---
Fiber Loopback Plugs ►

High-performance fiber optic loopback plugs, loopback adapters, loopback cables or fiber optic loopback modules (incorporating two fiber optic connectors) are designed for network diagnostics, testing the transmission capability and receiver sensitivity of network equipment and other measurement applications. Specialized Products offers FiberXP™ loopback assemblies for troubleshooting applications.
---
Fiber Patch Cables ►

Fiber optic patch cables are becoming extremely popular in both the telecommunications and the networking industry. They provide greater bandwidth and far greater efficiency in comparison to the conventional communication medium of copper wires. Multimode fiber optic patch cables are used for most general short-distance fiber applications such as adding segments to an existing network. Single mode fiber optic patch cables, made with 9µm Corning Fiber, allow data to be transferred at distances over 50 times greater than multimode cables and are most applicable where low signal loss and high data rates are required. At Specialized Products, we carry both multimode fiber optic patch cables and single mode fiber optic cables featuring:
Lengths ranging from 1m to 10 m
Duplex and simplex formats
Different connection types including FC, SC, ST, LC, and MTRJ
Tested 100% for insertion loss and back reflection
---
Fan-Out Cables & Kits ►

Fan out cables and Kits are used to easily field install connectors and route fiber without splicing. These furcation kits sleeve each fiber for protection. Specialized Products stocks a variety of these breakout cables from brands such as Corning, AFL and FiberXP.
FiberXP MTP / MPO breakout fiber fan-out cables are offered in 8-core, 12-core and 24-core plenum cable.
Corning buffer tube fan-out cables are designed for 6-fiber and 12-fiber buffer tubes.
---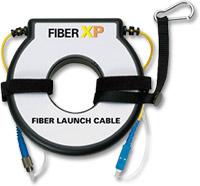 OTDR Launch Cables ►

OTDR Launch Cables or pulse suppressors assist with eliminating the "Dead Zone" when testing for breaks and loss in fiber optic cable. They effectively allow you to test at the near end and far end of patch panel connections. Specialized Products features brands such as AFL and Fluke Networks, along with our popular and economical FiberXP brand.
---
Other Fiber Accessories ►

Additional fiber optic accessories include boot kits, dust covers, furcation kits and test reference cords. These products further aid in testing and maintaining your fiber optic network.
---
Bare Fiber Testers ►

Divot Bare Fiber Test Adapters accept cleaved and non-cleaved fiber and require no messy gel applicators. They connect to unterminated bare fiber for test, service or communication requirements.
For Singlemode 9/12um, Multimode 62.5/125µm or Multimode 50/125µm
Connector Types – FC, ST, SC, FC/APC, SC/APC and LC
Number of insertions (Typical) – 1000 min (500 min/cartridge, 2 cartridges included)
Insertion loss (Typical) <0.5dB
---
OTDR Launch Boxes ►

Measure the complete link loss of fiber and minimize the event dead zone with our OTDR Launch Boxes. These fiber optic launch boxes are designed for single mode fiber with SC-SC, SC-LC, SC-FC and SC/APC-SC connector configurations.
Portable design
Corning Singlemode 9µm fiber
2000 meters (6561-feet) in length