Customized Tool Kits
Specialized Products Company builds customized tool kits to your exact specifications. We'll make sure it includes every item you need — and none that you don't. Keep it simple. Our tool kit program offers the convenience of ordering ONE part number, receiving ONE shipment and paying ONE invoice, at the same competitive pricing you expect from your single-source supplier.
Contact our Sales Department at (800) 866-5353.
You'll appreciate the ease of ONE-stop shopping and working with our friendly sales staff. We offer expert tool consultation including local field support, or you can provide your kit requirements. Any item in our inventory of over 10,000 products can be incorporated into your kit. We'll work with you to include anything from a basic tool to the most sophisticated test equipment.
Your custom kit is built to your exact specifications.
Choose from hundreds of cases and custom pallet configurations to organize and protect your specific contents. We will accommodate any special handling requests because SPC provides specialized service down to the last tool. Protect your investment.
STEP 1:
Select your hard shell
or soft carry case.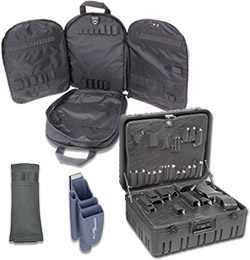 STEP 2:
Select your tools.

STEP 3:
Receive your
completed custom kit.

Customizing Kits with
Pallets and Inserts
When your equipment and tools require a specific pallet configuration or customized foam insert, Specialized Products is equipped to meet your request. Purchase the desired items from us or send us the product you have, and we will have a template created for you to evaluate. Our sales team is ready to assist in selecting the kit contents necessary for your specific application. As with any custom tool kit we'll make sure it includes every item you need. A one time die fee and minimum quantity order is required for this service.
Protect your investment. Shop Now > for Complete Tool Kits